Welcome
VSAS provides turnkey automation solutions for process and machine tool industries. With more than 15 years of experience we are the best in solution providing for both the process and machine tool industries with PLC, SCADA, HMI, SERVO DRIVES and VFD. Till date we have successfully completed hundreds of projects in m/c tool and process industries..

We have successfully designed, developed and commissioned the automation systems;

PLC AND SCADA: Ranging from few I/O s to a quite a few thousand I/Os. These systems include hot standby redundant PLC and SCADA systems, wireless communication, data logging, detailed reporting, graphical representation and reproduction of data.
SERVO DRIVES: For machine tools in Automotive, Cut to length Applications, Packaging, Textile Printing, Printing. Ranging from single axis to multi axis requirements with demanding accuracy requirements.
VFD: For normal operations to energy saving application and also synchronisation of two axis for assembly conveyors.
Instrumentation : DPM to controllers , HMI with gateways
Electrical Actuators: For simple slide movements to critical multi axis requirement with automation built around the same.
We design and manufacture fully furnished control panels, conform`ing to various standards, as per process requirements for PLC, drives, servos.

With the right selection of the products from PLC, SCADA, HMI, VFD, Servo, we design the best solution for the requirement. Be it process or be it machine we make sure that it delivers exactly what it is supposed to deliver and saves time and costs.

With an entirely new product range "Electrical Actuators" from Intelligent Actuators Inc. it is much easier for the user to increase the efficiency and reduce the dependability and operating costs and say good bye to the air or hydraulic cylinders. The electrical actuator gives the user a freedom to set the strokes' pattern, speed with great accuracy.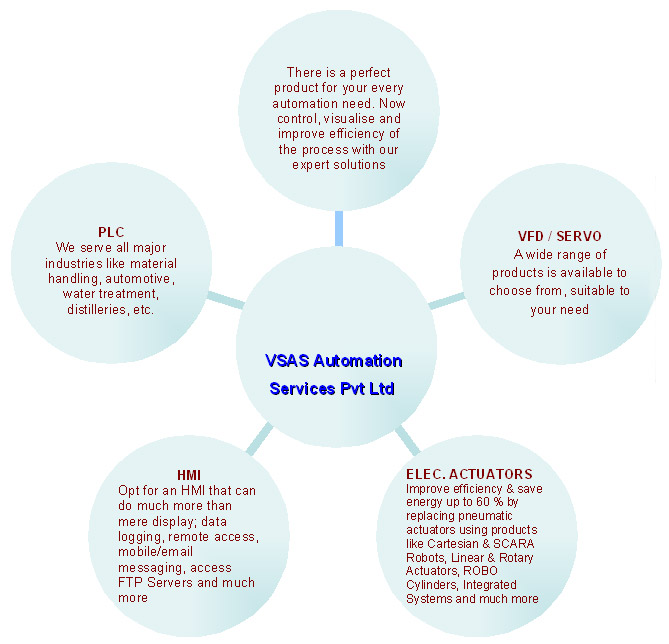 Quick Contact

Survey No. 124/12 A, Mulik Baug, Near M. I. T. College, Off Paud Road, Kothrud,
Pune 411 038
Maharashtra,
INDIA.
Phone:
+ 91-20- 25442302/4/5
+ 91-20- 25423809/10
Fax:
+ 91-20- 25464460
E-mail:
info@vsasautomation.com